Weather Intelligence for Agriculture Operations
Use ClimaCell to increase revenue by improving operational efficiency, reducing costs, and minimizing safety risks.
"ClimaCell provides by-the-minute MicroWeather forecasts at ground-level, where plants grow. With smarter weather data, NetBeat helps farmers irrigate according to farm-specific conditions. By using ClimaCell's API, NetBeat receives precipitation intensity and classification as well as other parameters to improve its Dynamic Crop Models™"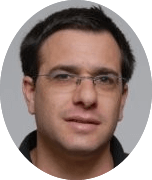 Lior Doron, Digital Farming Head of Product Management at Netafirm

Forget the Forecast. Use ClimaCell.
Increase efficiency and revenue
Minimize safety risks
Reduce operating costs
What's the Cost of Not Using ClimaCell?
What Makes ClimaCell so Special for Agriculture Operations?
24/7 hyperlocal minute by minute weather insights at the soil level
Improve on-time irrigation, planting, and harvesting
Better forecast crop yield by taking weather into account
We're Talking About Millions in Operational Strategy
Drought and heat damage cause $17 billion worth of crop loss in the US each year
An early freeze in the fall drops yield, costing US farmers up to $28.6 billion
See Now: How weather insights is driving the future growth of agriculture
End-to-End Agriculture Operations Optimization
See exactly when, where, and how weather will impact your company in one simple dashboard.
Be consistent with on-time irrigation
Get more reliable crop yield
Meet growing market demand
Take Control of Millions in Operational Strategy
Learn more
Gain a competitive advantage
Improve overall crop quality
Keep staff and equipment safe