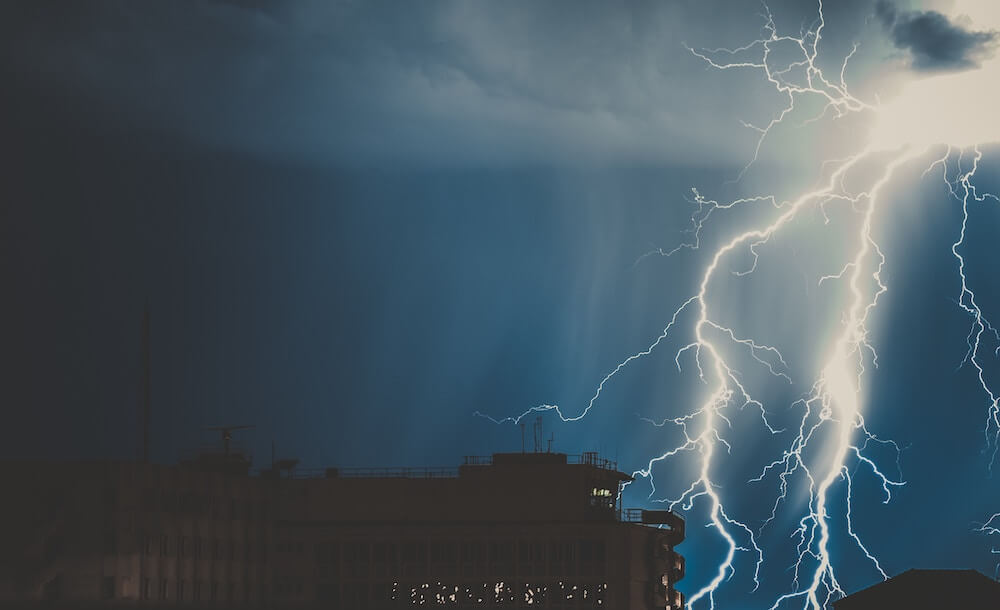 July 4, 2019・4 min read
When Lightning Strikes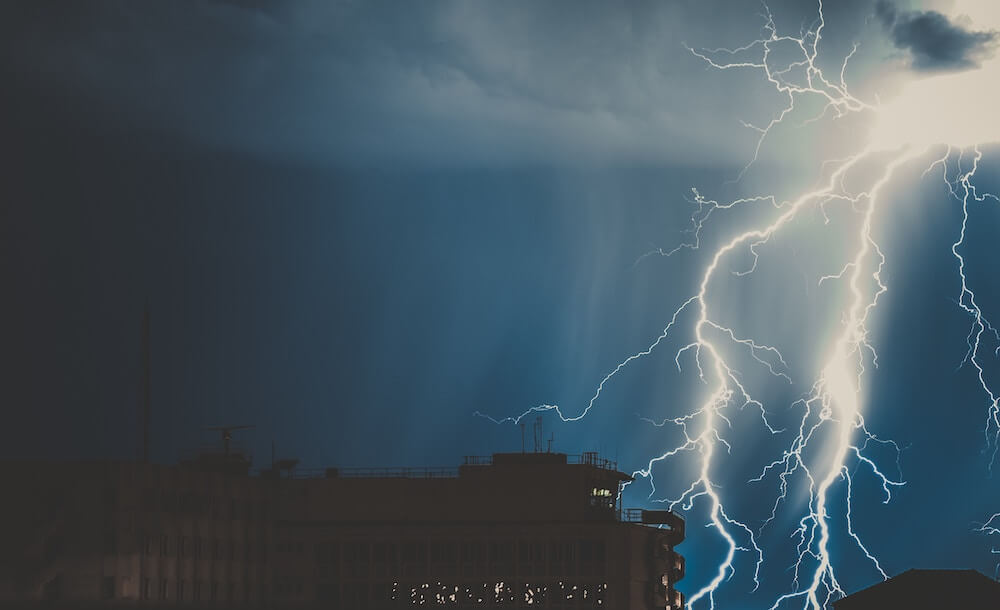 Lightning is a stunning natural phenomenon. Powerful, at times blinding flashes of light piercing the sky. A subtly secreted scent and slightly elevated temperature. An unintentional call for all to pause and marvel at Mother Nature's glory. But lightning is also one of the most deadly natural experiences known to man.
When lightning strikes, it can significantly impact weather-sensitive industries
When lightning strikes, physical assets can be damaged, power lines can be downed, and people can be harmed. For weather-sensitive industries, such as airlines, construction companies, sports teams and outdoor event companies, the damage can be significant and range from monetary loss due to the inability to carry out routine operations (from airport closures to fleet deployments), to physical loss as a result of storm-driven work accidents: fallen structures, fires and even electrocution. Conversely, these industries often suffer losses due to  inaccurate forecasts (ie, false positives) that shut down operations unnecessarily, resulting in lost time and money and often wind up inconveniencing customers.
When lightning strikes, these industries are often left in the lurch
The thing is, lightning is just one of those weather conditions that is hard to forecast.  Companies need extremely accurate and specific information – in terms of timing, location and directionality of thunderstorms – to take necessary precautions. And the same level of accuracy is needed to avoid unnecessary shutdowns of operations (anyone who's been pulled out of a swimming pool on a sunny Florida afternoon has paid the price of inaccurate forecasts…)  Knowing when exactly a thunderstorm will hit, and whether it will reach you or stay 10 miles away, is critical for ensuring safety, planning operations and avoiding larger-than-necessary windows of caution. 
To date, forecasts have been unable to provide this level of granularity and accuracy, presenting only 'broad-stroke' forecasts of thunderstorms. 
Until now…
When lightning strikes, weather-sensitive industries can count on ClimaCell
ClimaCell is currently the only company to differentiate between lightning and storm motion, using deep learning and other atmospheric model techniques to forecast not only the existence of lightning, but its directionality and movement. ClimaCell's HyperCast dashboard maps out the probable path of lightning storms so that organizations can prepare for possible lightning at exact locations, according to the severity and directionality (over 15/30 minutes) of the moving storm. And, as safety is the top priority for ClimaCell and its customers, the software sends an "all-clear" notification once the lightning has shifted away from the area, reducing downtime and risk to teams and their products and services. 
Below is a recent, real-life example that clearly demonstrates the power of exact lightning forecasts:
— At 12:57pm on a recent day, a ClimaCell lightning alert indicated a quickly-developing thunderstorm about 15-20 miles west of the Detroit Metropolitan airport. ClimaCell forecasted that the storm would continue moving east and pose a lightning threat within 10 miles by 1:20pm, with expected impact from the storm expected above the airport between 1:45-2:15pm.
— At 1:30pm, the ClimaCell system indicated that lightning would hit within 3 miles of the airport in the following 25-30 minutes.(Screenshot below)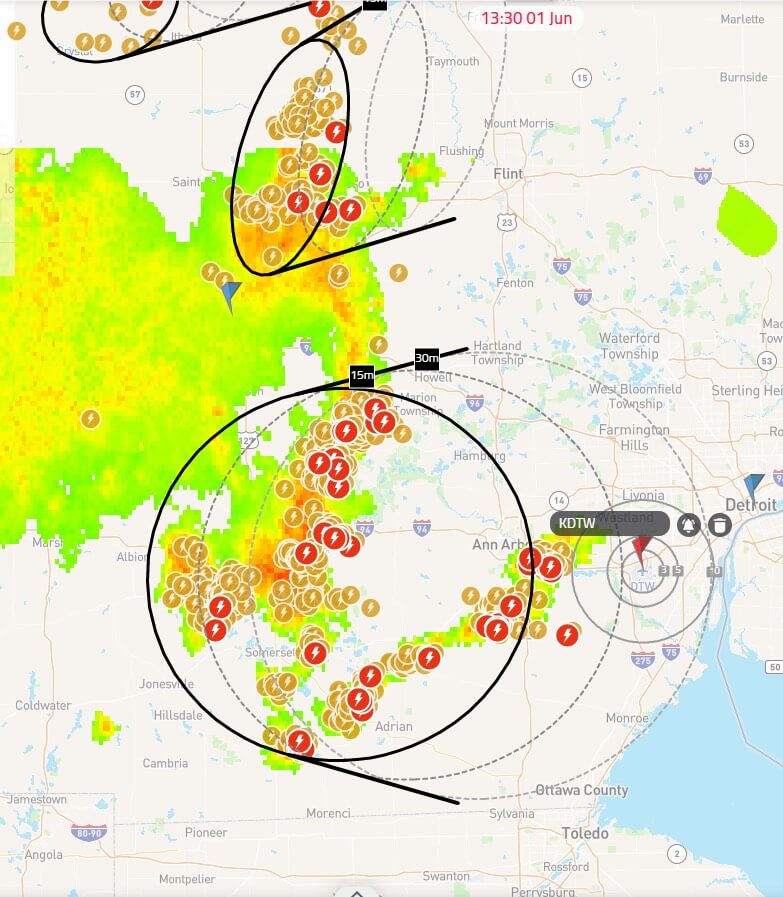 — Indeed, as the screenshot below indicates, at 1:37pm lightning hit within 3 miles of the airport, as predicted by ClimaCell.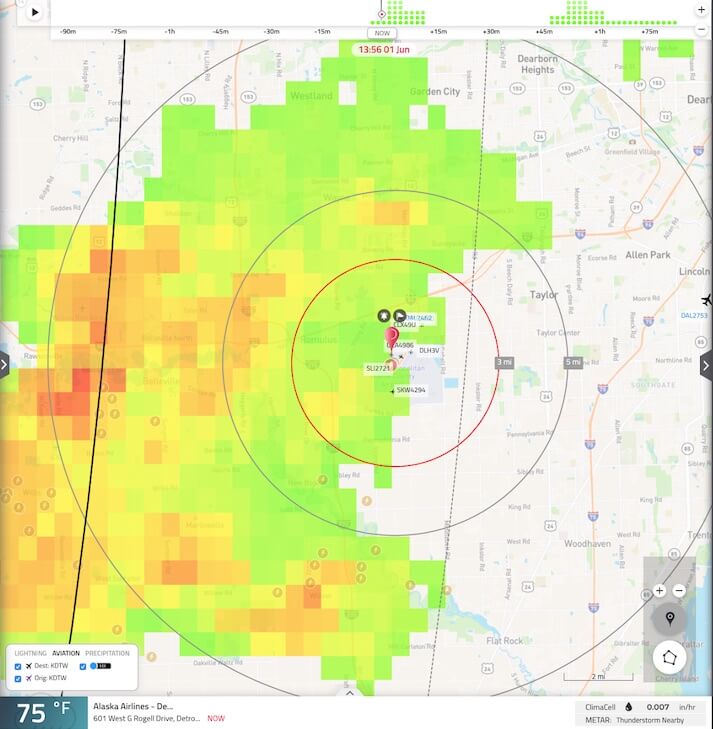 You can't stop lightning from striking but you can know when and where it will happen and have the time to take smart, careful action. With ClimaCell, that is.
ClimaCell
Learn more at Climacell.co.
More from ClimaCell