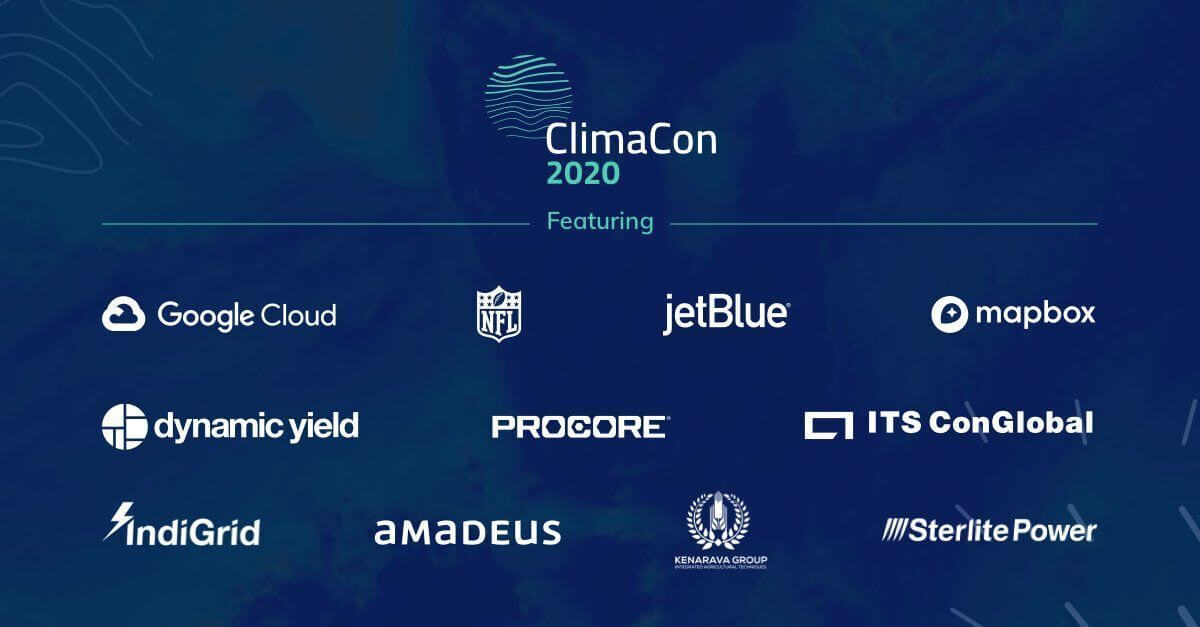 September 15, 2020・7 min read
Here's Everything Announced at the ClimaCon 2020 Keynote
"Weather forecasts put people in a state of confusion rather than a state of control." –
Dan Slagen, CMO at ClimaCell
What a day! Now that ClimaCon 2020 is over, we want to take a moment to recap the session and highlight all of the major announcements. To start though, we'd like to thank all of our amazing partners that took the time to join and participate in ClimaCon throughout the entire day. You all are the best!
Fox Sports
NFL
ITS ConGlobal
Google
Dynamic Yield
Mapbox
Procore
Amadeus
The keynote, which featured Fox Sports, the NFL, and ClimaCell's CMO, CPO, and CRO, covered a number of critical topics impacting the current and future state of the weather industry. In addition, ClimaCell made 4 major announcements, which we'll highlight here.
Announcement #1: ClimaCell Launches 1F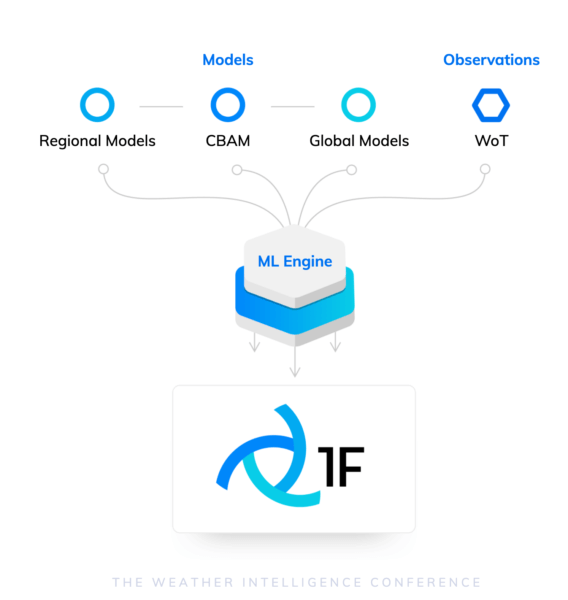 For years, ClimaCell has been the weather industry pioneer with its "weather-of-things" approach, utilizing hundreds of millions of global sensors to bring a proprietary approach to weather forecasting at a hyperlocal and actionable level. Today, we take the next step by introducing 1 Forecast (or as we like to call it, 1F), the ambitious new project launched by ClimaCell's elite team of PhD data scientists and R&D teams.
1F brings together Observations and Models including the "weather-of-things" approach, regional models, CBAM (ClimaCell Bespoke Atmospheric Model), and Global Models – which all feed into ClimaCell's proprietary machine learning engine. The result is the most actionable, impactful, hyperlocal weather intelligence forecast for your precise location, industry, and job function. While we're just getting started with 1F, the momentum is here and the pace of iteration will constantly be at lightning speeds.
Announcement #2: Templates Insights Library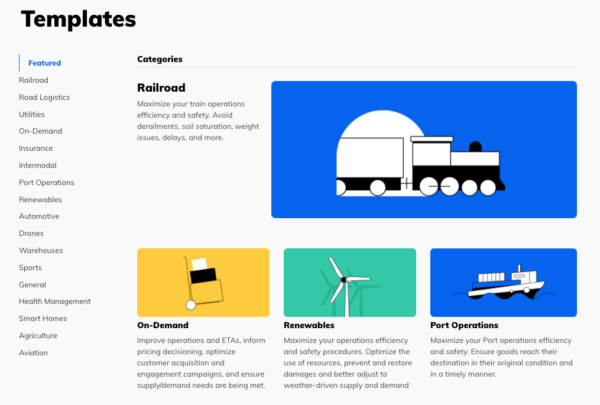 When you hear about ClimaCell and customers such as Uber, Fox Sports, or the NFL, you might think leveraging ClimaCell's Weather Intelligence Platform™ is an overly complex and intricate process. With our Templates Insights Library, however, getting up and running couldn't be easier.
We have prebuilt operational dashboards and insights across more than 15 industries ready to be turned on in minutes. For example, if you work in operations in the railroad industry, you can start by selecting our "Railroad" templates as seen below: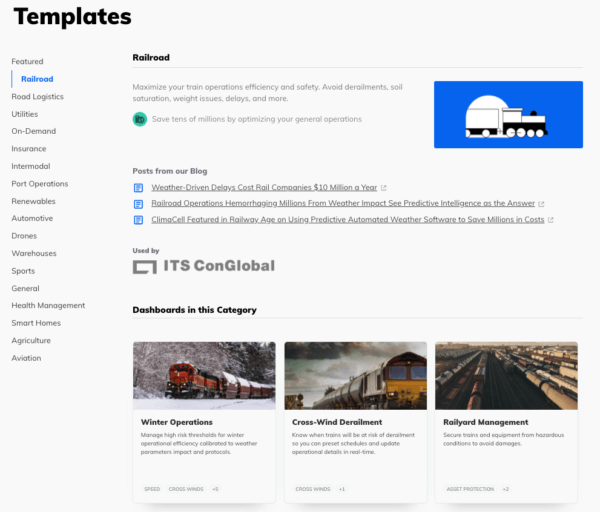 From there, simply select the dashboard you want to focus on, such as Winter Operations, Cross Wind Derailment, or Railyard Management to name a few, and you'll instantly be shown specific insights (as seen below) for you to apply to your operational dashboard. You can fully customize everything to your thresholds, protocols, and needs on a minute-by-minute basis.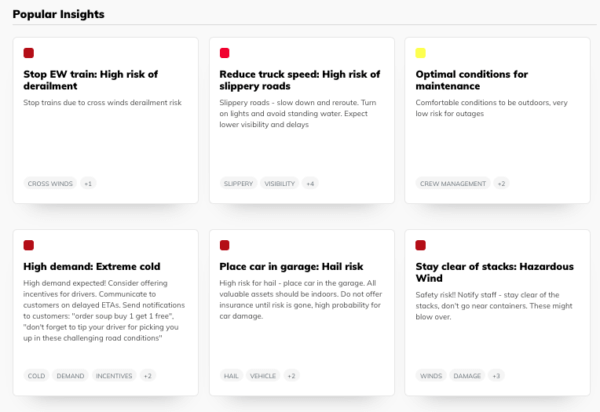 All the insights you need are ready to be plugged into your daily operations and integrated with any customizations that may be needed.
Want to learn more? Visit ClimaCell's Insights Templates and Insights Library!
Announcement #3: Monitors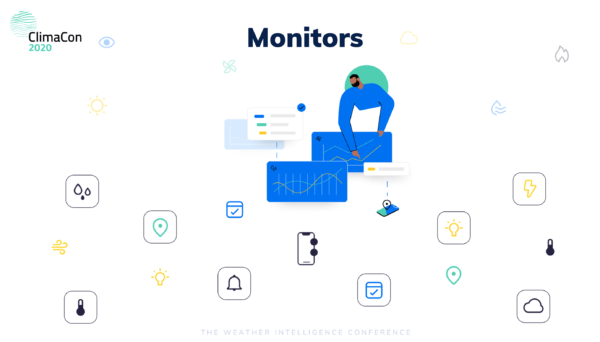 To make your life even easier, ClimaCell created Monitors. With Monitors, you can now add predictive insights and alerts to any location so you can stop worrying about the forecast. Always on and constantly working for you, Monitors consist of the following:
Each Monitor consists of 1 location with up to 10 predictive insights and alerts
Monitors are always on with 24/7 impact tracking for all of your hyperlocal locations
With Monitors, you can fully automate business decisions and team messaging in advance of weather impacting your operations
Monitors can be live in minutes, with a few simple actions:
Select the location(s) you wish to monitor

Confirm the Insights you need to track
The result is the ability to now make better decisions with a centralized single source of truth
Want to learn more? Get early access to Monitors now!
Announcement #4: All-in-One Weather Intelligence Platform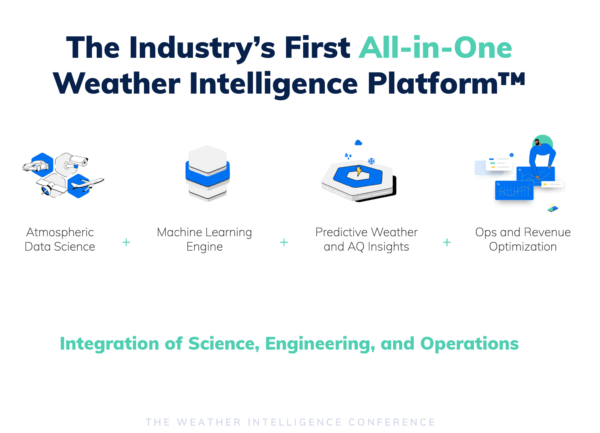 The culmination of the keynote highlighted the fact that while ClimaCell already offers the industry leading Weather Intelligence Platform™, the time has come to take the next step. ClimaCell is now thrilled to offer the industry's ONLY All-in-One Weather Intelligence Platform™.
Bringing together all of the best components in one place, ClimaCell's value offering is compounded across:
1 Forecast
Proprietary machine learning engine
Predictive weather and air quality insights
Insights templates library
Monitors
Operations and revenue optimization
Interactive weather map
Team messaging and alerts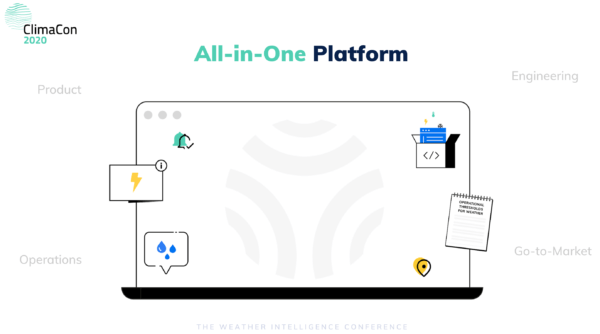 You can now orient your entire team, department, and company around one single source of weather truth in ClimaCell. No more disparate systems or apps, no more frustrating conversations about what to do that just end up waisting time and efficiency, and most importantly no more confusion. With ClimaCell, you can take control. Our fully customizable software and API offering allows you to instantly be up and running effortlessly, regardless of your location, industry, or job function.
Have a job that you think is too complex for ClimaCell? Tell that to the team at Fox Sports managing events all over the world on a daily basis.
Don't think your industry will change much and things will keep operating just like they have for years? Tell that to the NFL this season.
ClimaCell exists for the forward thinking mindsets and operational leaders across all industries.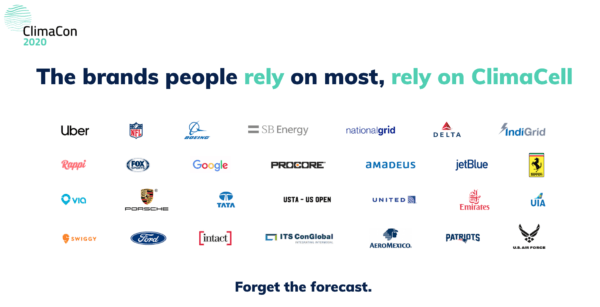 If you're not already working with ClimaCell, come see what we can do for you. We tell our customers all the time to "Forget the Forecast." Forecasts have become insufficient. Join the Weather Intelligence movement and get the industry's only All-in-One Weather Intelligence Platform™.
Want to learn more about how ClimaCell can help you optimize your operations? Schedule a custom demo now!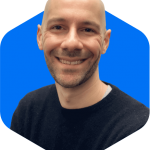 Dan Slagen
Currently CMO at ClimaCell, Dan Slagen is a 4 time start-up executive specializing in scaling global go-to-market functions from early stage to $100M+ in ARR. With experience in both B2B and B2C at companies such as HubSpot and Wayfair, Dan has built teams across marketing, growth, sales, customer success, business development, and also founded and sold his own video tech start-up. A frequent contributor and advisor to the start-up community, Dan has spoken at more than 50 conferences and has been featured in The New York Times, The Wall Street Journal, Forbes, CNBC, TechCrunch, and Bloomberg TV amongst others. Above all else, Dan believes in creativity, drive, and a people first mentality.
More from ClimaCell