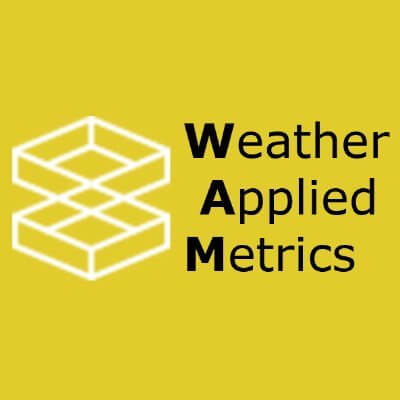 January 6, 2020・5 min read
ClimaCell Partners with Weather Applied Metrics to Provide Enhanced Visualization Solutions at Sporting Events
Boston, January 6, 2019 –  The 2019 Masters tournament turned dramatically on the 12th hole. Four different legends of the game found the creek during the final round, opening the door for Tiger Woods to make history with his 15th major title.
The 12th hole par 3 at Augusta National is one of the most famous holes in golf. Wildly varying winds make club selection difficult, requiring anything from a six-iron to a nine-iron for Masters competitors. This, along with the infamous Rae's Creek and three strategically placed bunkers, make it crucial for players to land their shots on the putting surface.
What if viewers could have visualized – in real time and forecast to later rounds – the precise impact of winds on the shots made at the 2019 Masters?
ClimaCell, a global leader in MicroWeather forecasts announced today that it will be collaborating with Weather Applied Metrics (WAM), which creates field-of-play-visualizations in real time. Together, ClimaCell and WAM will supply sports franchises, leagues, events and broadcasters with event-specific data visualization solutions. 
State of the art visualization solutions provide extra value and entertainment to sports enthusiasts everywhere. The ClimaCell-WAM partnership will benefit fans and participants in several ways. Audiences will see in real time the effects of weather – especially wind conditions – on a game. Sports broadcasters will more effectively engage their viewers, by using new data generated from the ClimaCell-WAM collaboration to create visually compelling narratives. Meanwhile, franchises, leagues, coaches, and players will get a much better read on current and forecast weather conditions during games, making it possible to more successfully adjust game strategy and operations. 
For ClimaCell, gaining access to WAM's analysis of weather's impact on specific events and fields of play will make it possible for the weather technology company to translate these data into more detailed and actionable insights about the probable effects of certain weather conditions on a game. 
ClimaCell's new Insights Dashboard tool compresses weather data into quick, comprehensible insights that empower decision makers in sports, such as the New England Patriots, to plan around the elements with greater confidence. WAM's unique analysis will make these insights even more accurate.
WAM's sports technology shows in real time how wind affects a golf shot at the Masters, or the way a volleyball is served on the beach during the Olympics, or the impact of a blizzard on a field goal attempt at Gillette Stadium. WAM can quantify weather's impact on sports with Computational Fluid Dynamics (CFD) modeling, standard trajectory physics, and other meteorological analyses. WAM has deployed its sensor hardware at venues like Fenway Park and the Oakland Coliseum. However, until now, the scope of its operations has been limited to places where their sensing hardware is set up. 
This is where ClimaCell's MicroWeather OS comes in. The company's innovative Weather Of Things approach to data gathering transforms the entire connected world -including wireless signals, satellites, connected cars, airplanes, street cameras, and drones-into a global network of virtual weather sensors.
For WAM, Collaborating with ClimaCell will reduce their reliance on hardware sensor deployments. The weather technology's global API will supply current and forecast conditions where setting up hardware isn't feasible. Together, WAM and ClimaCell will be in a position to significantly expand their coverage and offer weather analytics to other major sporting events.
Ian Tallett, Director of Business Partnerships, ClimaCell: "This partnership is a game changer in the world of sports technology. The sports tech sector is in massive growth mode, and is estimated to hit $30 billion by 2024. Combining ClimaCell's proprietary visual sensing technologies with WAM's sensor hardware is a perfect example of one plus one equaling three. Our MicroWeather API will bring WAM's visualization and analytical capabilities to sports fans and participants around the world. Together, we fully expect to transform the way sports are viewed and played."
John Farley, Chief Technology Officer at Weather Applied Metrics: "As meteorologists we've always known that weather has a huge impact on sports. Now we can tell you exactly what's going on with each ball. Our partnership with ClimaCell is very exciting because we know that  ClimaCell's observational network and forecasts are second to none. This will give our users the best possible weather input for their decisions and experience – revolutionizing how weather is used by coaches, players, broadcasters and fans."
ClimaCell
Learn more at Climacell.co.
More from ClimaCell